Relocating
Moving is HARD. Whether it's across town, or across the country, relocating takes a good amount of courage and patience. There is strategy needed, to go along with the hard work. Realtor.com has a short video on 6 big mistakes to avoid when relocating. Let's start there.
I have made good contacts over the years, discovering people and companies who can help me move from point A to B. Moving companies, organizers, storage facilities, labor contractors.. You name it. Call me for a chat about your relocation goals.
Moving TO Santa Clarita?
STARTERS:
For those newcomers to Santa Clarita, here are the "must-have" links to get you started:


The City of Santa Clarita has their own website, and KHTS and the Signal do a nice job too. The city's Facebook site is actually quite active and useful too.

Neighborhood Selector:
Needs: Short Commute
Choose: Stevenson Ranch/Newhall/Valencia

Needs: Large Lot Sizes:
Choose: Canyon Country/Hasley Hills/Placerita Canyon

Needs: No Mello ROOS
Choose: Newhall/Saugus/Canyon Country*

Needs: Close To Large Shopping Centers
Choose: Any, but Acton/Agua Dulce or Castaic

Needs: Best Schools
Choose: Valencia/Saugus/Newhall

Needs: View Homes
Choose: There are view homes in all SCV cities.

* – Mello Roos fees can be found in these cities, but these 3 have a lower concentration of MR homes.
Short Slideshow Loading.
SHOULD I MOVE – CLICK TO BEGIN SLIDESHOW
Santa Clarita Advisor – A thorough guide to the amenities found in our great town. Santa Clarita was recently named the "12th Happiest City in America", due to the job market here and overall physical well-being.

If you need referrals for moving companies, school information or neighborhood selection, based on your needs, I am at the ready.

Issues Confronting Santa Clarita

How about the Antelope Valley?
Most townspeople will tell you that areas west of the 14 freeway are more desireable, but there are pockets of good and bad neighborhoods on both sides.

One forum poster on City-data.com said "The problem with the AV is that the relatively lower housing costs are still going to attract the less-moneyed. With poor folks come poor-folk problems such as inconsistent employment and, sometimes, questionable character. But, I gather, the other fringe exurbs (Berdoo, Riverside, even out as far as Cabezon) are all experiencing the same difficulties."
Thinking it's time to move OUT of California?
I can help with that as well. I have contacts with great Realtors in 34 other states. I'm happy to help you list your home here, and coordinate with a Realtor in your new home state, making the move as seamless as possible.
By the way, here are the top 10 best states for first-time homebuyers: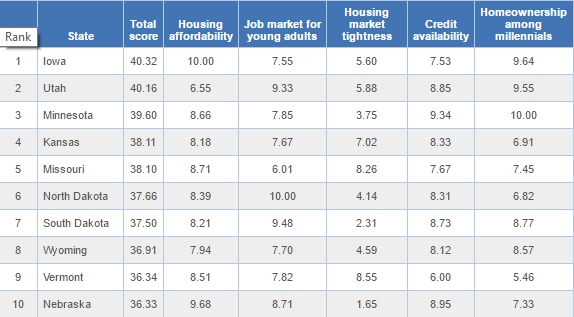 (Bankrate.com)
Visit our Facebook Page for more: